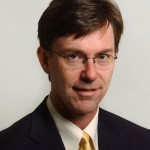 I am a digital journalist, a word pairing that should be as redundant as "consensus agreement" or "totally unique."
I'm currently publisher and senior director for news and public affairs at PBS.org, leading a team launching PBSNews.org, a site to provide depth and context behind ongoing news stories.
The "journalist" part of my career comes from (indecipherable murmer) years as a public-affairs and general-assignment reporter and editor for the South Florida Sun-Sentinel, the Quad-City Times and other newspapers. The full litany of those misbegotten years is here. Don't hold any of it against my editors. They tried.
All credit for the "digital" piece belongs to the Knight Fellowships at Stanford University. I studied the economics of digital information – and was lucky enough to do so at the top of the late '90s Internet bubble. (Yahoo! had just been launched by a couple Stanford grads – and two kids named Sergey and Larry were kicking around the place, too.)
From 2000 to 2009, I ran websites, built new products and otherwise served as a corporate staff dweeb at Tribune Interactive, the digital arm of Tribune Company. Since then, I served as a consultant to academic centers, worked at a start-up and taught journopreneurship to a whip-smart bunch of graduate students at American University.
I'm married to the author and journalist Sue Corbett. We have a trumpet player, a tuba player and a violinist.
Contact me to find out more.
Disclosures:
I've provided consulting services to these organizations:
Politically, I characterize myself as a PO'd moderate. In the years when I was no longer working in newsrooms, I donated money to precisely one political candidate – the similarly moderate state Sen. John Miller of Virginia, whom I count as a friend (and whose Commonwealth Caucus has the strange notion that bi-partisan cooperation is needed to solve issues. Who knew?). My two sons have had the privlege of serving as pages at the Virginia Senate due to John's help.
Download:
One of my favorite presentations/lectures, on how technological change is affecting journalism (no, it's not Google's fault. Blame Gordon Moore).